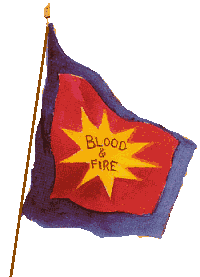 The Salvation Army
on stamps...
Updated 07.09-2016

BOTH MNH AND NICE USED CONDITION WANTED!!
ALSO FDC's!! But no stamp with CTO!!

As I work for The Salvation Army,
and also been brought up in this church and
social organization, I would like to have a
collection of stamps committed to this church/organization.
Quite a few countries have issued stamps
with the theme: "The Salvation Army".
I would like to receive any material within
this topic, though NO stamp with CTO-cancellation!

If you know of any Salvation Army-related stamps of any
country of the world..., which is not in this list, let me know!!
Thanks!!

Remark... "x" means that I need these...!
ISSUING COUNTRY

DATE ISSUED

NO. OF STAMPS

SG. CAT. NO.

MNH

USED

OFFICIAL FDC

NOTES

Netherlands (East) Indies

1st Dec. 1932

5

329-332

x

Netherlands (East) Indies

1st Dec. 1936

5

375-379

x (!)

x

I have only 12 1/2 in Used Condition, need the rest!!

Switzerland

5th Mar. 1958

1

590

x

x

U.S.A.

2nd July 1965

1

1249

x

x

Great Britain

9th Aug. 1965

2

665/6

x

x(obs!)

x

I need 1'6 in normal paper used, and both stamps on phosphor paper.
Need all in MNH!

Jamaica

23rd Aug. 1965

2

242/3

x (!)

x

I have only 1'6 in Used Condition, need the 3d!

Denmark

12th Oct. 1967

1

489

St. Christopher-Nevis-Anguilla

15th Sept. 1975

1

338

x

x

x

Antigua

29th Dec. 1977

1

567

x

x

Sweden

11th April 1978

1

958

x

x

Barbuda

18th Feb. 1978

1

387

x

x

x

Monaco

8th Nov. 1978

1

1374

x

x

Jamaica

4th Dec. 1978

4

456-459

x (!)

x

I need in Used condition; 20 c
and 50 c.

Chile

17th Mar. 1979

1

814

x

x

Kenya

29th June 1979

4

156-159

x

x

Zaire

3rd Mar. 1980

8+M.S.

1002-1010

x  (!)

Fail only the FDC with the Miniature Sheet

Australia

11th Aug. 1980

1

748

x

Jamaica

14th Sept. 1981

1

521

x

x

x

Antigua & Barbuda

1st Nov. 1981

1

720

x

x

x

Canada

25th June 1982

1

1046

 

Switzerland

23rd Aug. 1982

1

1047

x

New Zealand

2nd Feb. 1983

1

1303

Isle of Man

15th Feb. 1983

4

228-231

x

Singapore

7th June 1984

1

471

x

x

x

St. Helena

12th Oct. 1984

4

446-449

x

x

Netherlands

10th Feb. 1987

1

1500

x

 

Philippines

5th June 1987

1

2029

x

Suriname

2nd Sept. 1987

1

1333

x

x

x

Jamaica

8th Oct. 1987

4+M.S

698-703

x

x

x

Norway

10th Feb. 1988

2

1035/1036

Antigua & Barbuda

10th Mar. 1988

8+M.S

1163-1171

x

x

Barbuda

25th Mar. 1988

8+M.S

x

x

x

Finland

6th Feb 1989

1

1167

Denmark

16th Feb. 1989

1

879

Belgium

18th Nov. 1989

1

3005

x

 

Argentina

1st Dec. 1990

1

2227

x

x

Iceland

14th Mar. 1995

1

834

x

x

Guyana

24th April 1995

4

4319-4322

x

x

x

Sri Lanka

24th April 1999

1

x

x

 

Australia

1st Jan. 2000

1

x

x

x

Peru

Dec. 2000?

1

x

x

x

Trinidad & Tobago

9th Aug. 2001

2 +M.S

(stamps
only)

x

x
Any later issues welcome in used, mnh and FDC!
<![if !supportLineBreakNewLine]>
<![endif]>
Source taken from The Salvation Army's Collectable webpage